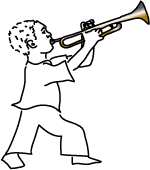 Specialising in Jazz, Latin American and Blues the Ladywood Community School of Music aims to provide affordably priced quality musical tuition for children and adults of all ages and abilities.
We currently offer classes on the Saxophone, Trumpet, Trombone, Violin, Piano/Keyboards, Guitar, Double Bass and Drums* and students have the opportunity to showcase their talents in our Band development project as well as in Andy Hamiltons Sunday lunchtime concerts at the Drum.
Classes are between 5 and 7 on Thursday evenings, priced £2.00(conc) or £3.00(full).
*We can teach other instruments subject to interest.
Contact details:

e-mail ladywoodmusic@gmail.com

phone Richard on 07905 559 167

or 0121 455 9454